WHY YOU WANT TO LEARN REJUVANCE BIOENERGETIC FINGERTIP FACELIFT MASSAGE.
Rejuvance is a professional & certified course
Rejuvance is a revolutionary facial rejuvenation technique, originally developed by Stanley Rosenberg, Ilaira Bouratinou and Julie Hardenberg.
It was first (in the year 2000) practiced and taught in the UK, now it is spreading all over the world.
Rejuvance is a light bio-energetic fingertip face-lift massage, applied in 6 (60-minute) sessions, on the face, scalp, decollete and neck.
The benefits of the Rejuvance technique for the masseuse (healer, professional)
Rejuvance facial massage is a means to offer personal contact (that is scarce today and yearned for by people!) by giving real attention and by the simple action of touch during the massage session.
It has a low impact on the body of the professional though it has high impact as an experience for the client. This gives you an opportunity to rest your tired hands and body, in between other more tiring massage treatments.
The masseuse can either choose to sit on a chair while working on the supine client on the massage table, or to sit on the floor while working on the (supine) client on a thin mat. Your choice of posturing depends on the shape and elasticity of your body and of the body of the client.
The Rejuvance session also is a moment of rest for your mind because the deep relaxation of the client has the side effect that there is no conversation during the treatment.
Once you and your client have found each other, you right away gain a respectful income because the whole series of Rejuvance we offer as a package of 6 different sessions.
The chances are high that the client becomes a stable visitor of your institute to receive "Top Ups" every 4-6 weeks!
New improvements will show themselves always from the Rejuvance sessions by continuing with the repetitive Top Up sessions.
The clients are impressed easily by the results of Rejuvance, through offering a half face session and then compare the left/ right differences using a hand mirror. This approach is also possible as a demonstration for groups.
Also:
There are no nasty side effects, like allergies for products. You need no investments in products because the masseuse works on the face with the client's own personal day cream. Also you need no machinery (this means lower investment costs for you).
Rejuvance is an independent and complete massage system.
You also can easily combine Rejuvance with other healing modalities, like for example: Reiki, Shiatsu, acupuncture, physiotherapy, body massage, aromatherapy, treatments from a beautician etc.
Also you can choose to use, besides the face massage techniques, a facial massage roller as a tool.
The nicest advantage of all is that you can treat yourself in order to stay tip-top for the rest of your life!
A Rejuvance session can also be offered as a birthday present (if you run out of money or shopping time) and even as advertisement to find new clients. Offering/ selling of vouchers is possible as well.


More benefits for the therapist:
Rejuvance you can learn fast or slower during this online massage course, just in your own pace, on your own location!
The organisation of the material is logical, in order to remember all the steps easily. A complete handbook is included as well.
You practice along the video sessions right away, on yourself or on a volunteer. Volunteers you find easy for this exquisite massage!
You will have loads of work because of the clear results of Rejuvance, a technique that makes you stand out of the crowds of professionals!
Benefits for the clients of Rejuvance facial massage:
The client is relieved from signs and lines of stress on the face, as well as from headaches. He/she experiences relaxation and a deep feeling of well-being. The face radiates light in a natural uplifting way and shows a lifting too!
People try to understand you by observing your face that shows what you are feeling through its expressions. You are easier to communicate to when your face can express your feelings easily without contortions.
Your face reflects your whole life; therefore much of your stress and traumas can be seen there too as wrinkles and lines.
Stress
Stress tightens and contorts your facial muscles. Just the thought of a past trauma can trigger muscle tension. Even repressed emotions leave lingering traces of stiffness. Lines appear, that become creases and wrinkles and give a 'hard' expression. Soon, these become permanent. The results of Rejuvance are breathtaking, releasing those tensions!
Most facial massages work only on the epidermis, that gives only partial results Rejuvance does more!
Rejuvance techniques relax the muscles in several ways. One way is by releasing the 'stuck' connective tissue that encases them. It helps the connective tissue to regain its elasticity as well as to improve its blood circulation. More oxygen and nutrients are carried to the cells which are embedded in the connective tissue.
There is improvement on old or new scar tissue and there is immediate result on your face complexion.
Lymph drainage takes place in the whole face head and neck area.
Rejuvance we also call the natural 'Fingertip Face Lift' because it aims for similar results as a surgical job without the traumatic impact and the long recovery time. There are no bruises, redness, flaking and damage to the sensitive capillary veins of the face because the masseuse works very gentle and precise on the connective tissue and the 91 muscles of the face, neck, shoulders and scalp with bio-energetic light-touch massage and acupressure techniques.

More benefits of this facial massage are:
-Total body relaxation & feeling of happiness
-Feeling of deep well-being, and liveliness
-Relief of headache, and shoulder stiffness
-Re balancing of the nervous system
-Improvement of jaw function, teeth grinding and breathing
-The aging process of the face slows down
-Smiling is easier. Improvement is noticed in falling asleep at night.
- A return of symmetry in the face and a reduction of puffiness.
Are you interested to know more and to learn this UNIQUE massage modality?
84 Persons followed this course before you!
People who followed this course had an upsurge in their work and enjoy the time with their clients!
The benefits of learning Rejuvance massage online
You learn in your own speed, at home when you have time in your busy schedule.
You donot loose precious time and money on travelling, hotel and restaurants.You also save money because you donot have to take time off your work.
You can watch back all the video's if you feel insecure. Donot forget to check the results in the appearance of the face and neck, to get feedback that you did well. You can take before and after pictures right in the session.
This course has 10 logically organised sections that are easy to understand, no prior knowledge of massage is necessary.
The course comes with a lot of free extra's as a bonus:
How to make a 100% natural facial serum easily.
Strenghtening the facial muscles with exercises/ facial yoga.
A fast daily morning massage session.
How to promote Rejuvance easily.
You can book a private video session with QiCarine for Q&A and do a short video examination.
You can buy the course NOW and do it later!
If you choose the one time payment you receive the extra mini courses Rejuvance 202 & 303 for free!
You cannot find Rejuvance as a course on youtube, so donot loose your precious time there.
If you follow this course things just start to flow for you! If you donot enroll....things will forever stay the same for you, while other therapists move on to new levels!
Excerpts of Rejuvance online course are featured on
Facebook: Rejuvance online course
Youtube: demo Rejuvance, Facial yoga
Instagram: QiCarine insta
Pinterest: Pin QiCarine
To see the full list of contents of the course scroll down please!
Teaching a Rejuvance class in Greece. The photo is NOT from the online course, where the image is close up only, between you and me!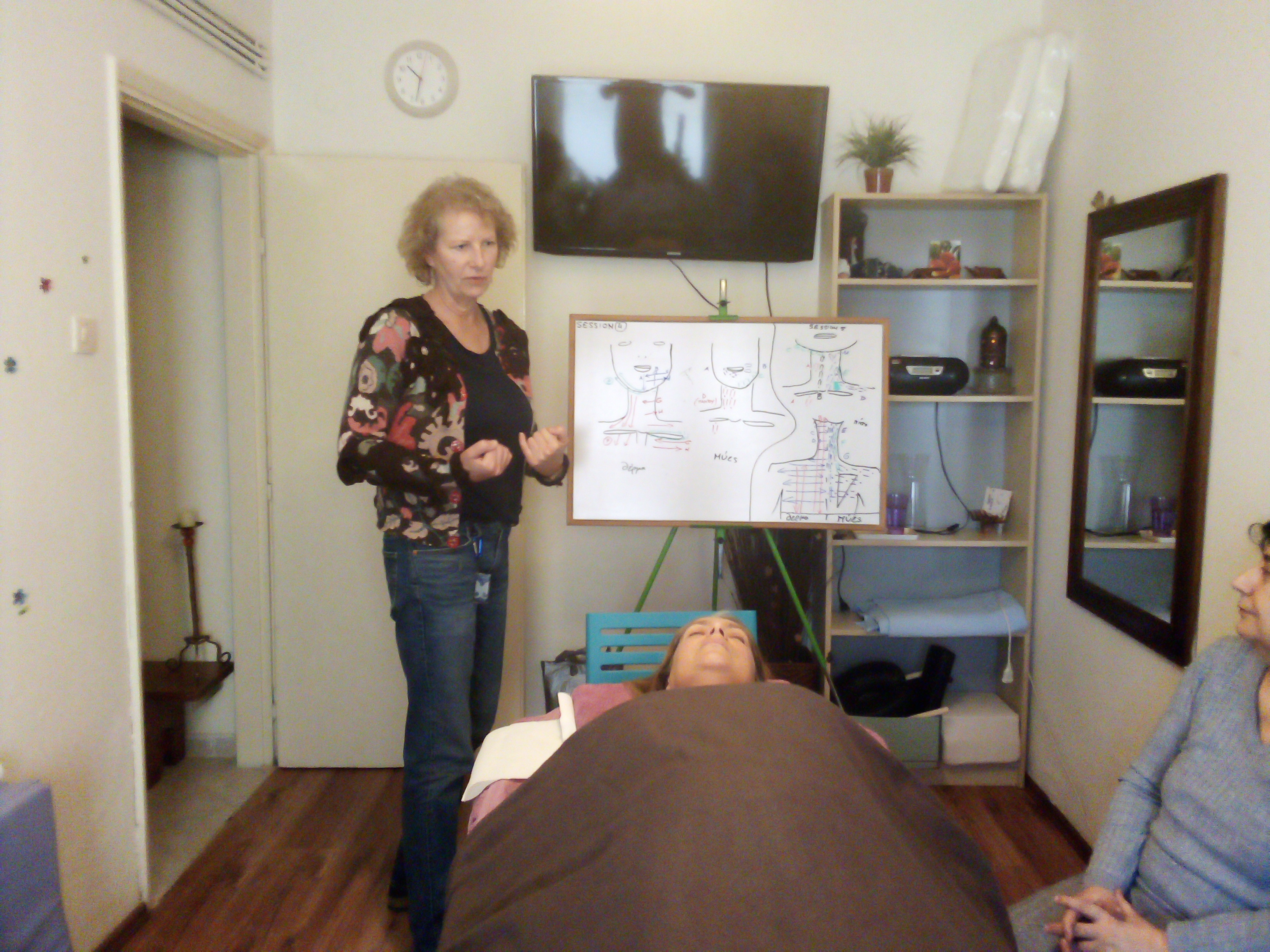 Students practicing Rejuvance session 5. The photo is NOT from the online course, which contains close ups only between you and me!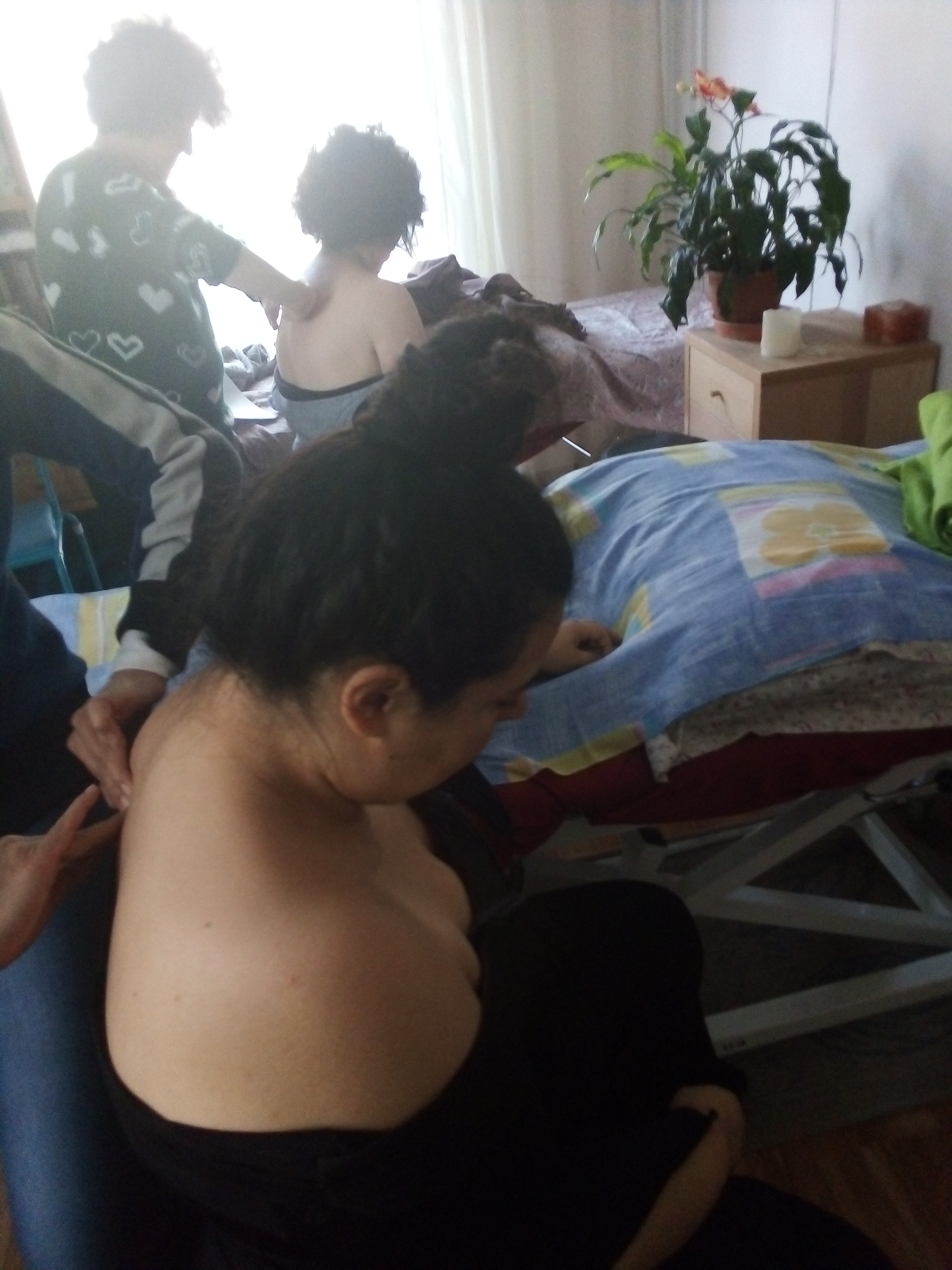 Qi Carine, Your Instructor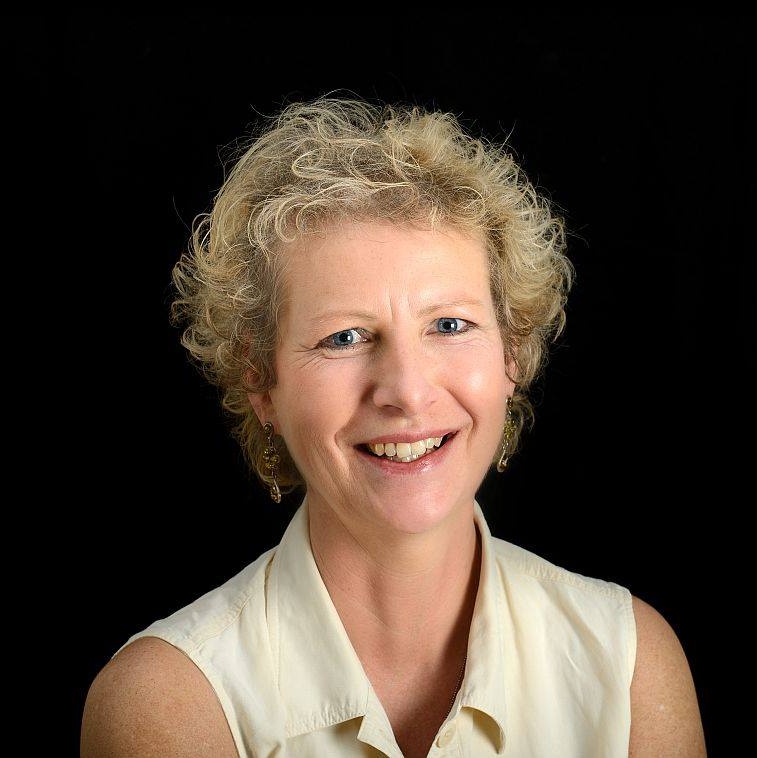 Carine Vloemans qualified herself as a physiotherapist and manual therapist in the Netherlands in 1985. After working in a rehab center for several years she moved to Greece and opened her own practice/clinic in 1989 first in Ierapetra, Crete and after in Thessaloniki/ Kalamaria.
After working with several collegues in IASIS center for physiotherapy & alternative therapies for 12 years, she now operates IASIS on her own.
In Greece, USA and Bulgaria she qualified herself in alternative/complementary healing modalities. She is even a teacher of some of those modalities. Regular eye-opening articles appear from her hand in magazines and sometimes she appears on television or gives lectures or demonstrations of her work.
Education

-Certified physiotherapist & manual therapy "Maitland" (member of the 'association of physiotherapists', Greece)
-Certified acupuncturist (Traditional Chinese medicine), Abdominal acupuncture, Yamamoto New Scalp Acupuncture

and offers also other modern systems of acupuncture like Spiritual (Esoteric) Acupuncture and Cosmetic Facial Acupuncture. (Bulgaria & Greece)
-Certified Reiki '3' (Practitioner and Master/ teacher). (Greece & USA)
-Certified Etheric Body Therapist (& teacher). ( Greece & USA)
-Certified Reader of the Auric Rays (& teacher). ( Greece & USA)
-Certified Rejuvance facial massage therapist (& teacher). ( Greece)
-Teacher/Master counselor of "Awakening Consciousness".
-Senior Mentor for other therapists.
Although Ms. C. Vloemans is highly qualified, IASIS is accessible and affordable, and offers you therapies that some would call "therapy approach from the future".
Languages: English, Greek, Dutch, German.
Testimonials :
"Outstanding knowledge and wisdom … She sees where others don't see …"
"Perfect professionalism, an experience to recommend to seekers of complementary treatment modalities."
"I have had the pleasure of knowing Mrs Carine Vloemans for more than ten years, not only in the capacity of a client at the IASIS Center for Physiotherapy & Alternative Therapies but as a student and also as a friend.
Having been a client of Mrs Carine Vloemans I am very appreciative of her professionalism, her attentiveness, her patience, her ability to listen and to give precious advice.
Mrs Vloemans has given many lectures and seminars on alternative methods of healing and I have attended several of those – in Greek or English. I therefore can state of Mrs Vloemans excellent communication abilities in capturing her students' attention as well of her well structured to the point explanations and her attention to detail.
Mrs Carine Vloemans as a person is well organized, efficient, extremely competent and devoted to her field of work, she has excellent rapport with people of all ages and possesses outstanding communication skills.
I can highly recommend Mrs Carine Vloemans' services."
Eva Baumgartner, speaker at Aristotle University of Thessaloniki
"Mrs. Carine is an amazing professional and person. It took only one appointment to completely trust her and her talent. I highly recommend her no matter what your condition is."
Course Curriculum
Introduction & The Precious Acupoints
Available in days
days after you enroll
Rejuvance Session 1: Release that Connective Tissue of the Face!
Available in days
days after you enroll
Rejuvance Session 2, Relax the Forehead and the Scalp NOW!
Available in days
days after you enroll
Frequently Asked Questions
When does the course start and finish?
The course starts now and you have access for 12 months! It is a completely self-paced online course - you decide when you start and when you finish.
How long do I have access to the course?
How does lifetime access sound? After enrolling, you have unlimited access to this course for 12 months - across any and all devices you own.
What if I am unhappy with the course?
We would never want you to be unhappy! If you are unsatisfied with your purchase, contact us in the first 14 days and we will give you a full refund.
Is this massage modality scientifically proved?
https://rejuvance-fingertip-facelift-massage.teachable.com/blog/39796/research-article-on-rejuvance-facelift-massage
Is there more info concerning Rejuvance?
Yes, please have a look at the articles on this sites blog. ( In the header-bar)
Can I contact you?
Yes, I am happy to connect with you, look in the header for connecting.
Is this a course with certification?
Yes , after a personal short online video test, you will receive your certificate of completion of the Rejuvance course.
I understand your pains as a practitioner, and I really love to help you out when you join this course!